HRP Conjugated Chicken anti-C-MYC, 0.1 mg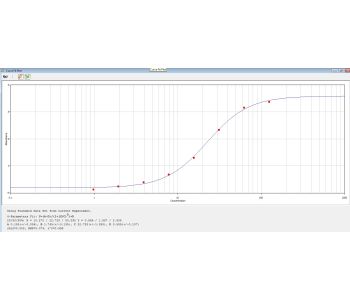 HRP Conjugated Chicken anti-C-MYC, 0.1 mg
PRODUCT: HRP Conjugated Chicken anti-C-MYC 
CATALOG NUMBER: CMYC-45P-Z 
PHYSICAL STATE: Liquid 
BUFFER: 50 mM HEPES – Saline with Stabilizer
PRESERVATIVE: 0.002% Thimerosal 
STORAGE: 4° C 
EXPIRATION: 12 months after shipping date. 
PROCEDURE: Chickens were immunized with EQKLISEEDL (C-MYC). Eggs were collected and IgY fraction prepared. Antibody was solid phase adsorbed, immunoaffinity purified off a peptide containing immunosorbent and conjugated with horseradish peroxidase (HRP). Antibody concentration was determined prior to conjugation using an absorbance at 280 nm: 1.32 equals 1.0 mg of IgY. 
SPECIFICATIONS: This antibody reacts with EQKLISEEDL as determined by IEP and ELISA techniques. It is suitable for blotting, ELISA and IHC applications. Optimal working dilutions should be determined experimentally by the investigator. 
More Information
| | |
| --- | --- |
| Antibody Type | Primary Antibody |
| Reactivity | C-Myc Tag |
| Host | Chicken |
| Specificity/Target | C-Myc tag |
| Size | 0.1 |
| Clonality | Polyclonal |
| Type | HRP Conjugated |
| Origin | USA |
| Shelf Life | 1 year |
| Format | Liquid |
| Buffer | 50mM HEPES-Saline with stabilizer |
| Preservative | 0.002% Thimerosal |
| Storage | 2-8C |
| Application | ELISA |
| Purity | Antigen Affinity Purified |
FOR RESEARCH AND MANUFACTURING ONLY; NOT FOR USE IN DIAGNOSTIC APPLICATIONS. FOR IN VITRO USE ONLY, NOT FOR HUMAN OR ANIMAL CONSUMPTION